The three prizes present once again shared MaMA's aspirations, placing innovation and youth at the heart of their mission.

MaMA Invent RIFFX Prize (in partnership with RIFFX by Crédit Mutuel)
After a rich session of project presentations to a jury of experts, the latter awarded the prize on Friday October 13 to KREYPT MUSIC for its art 3.0 workshop mixing instrumental music and cryptocurrency.  
For the first time, the jurors also awarded the " Jury's Favourite " to CARPANORAMA for its environmental commitment and its 100% autonomous mobile stage solution.
This year's event was honoured by the presence of Irène Drésel (Jury President), a renowned artist and composer, who graciously took part in the ceremony.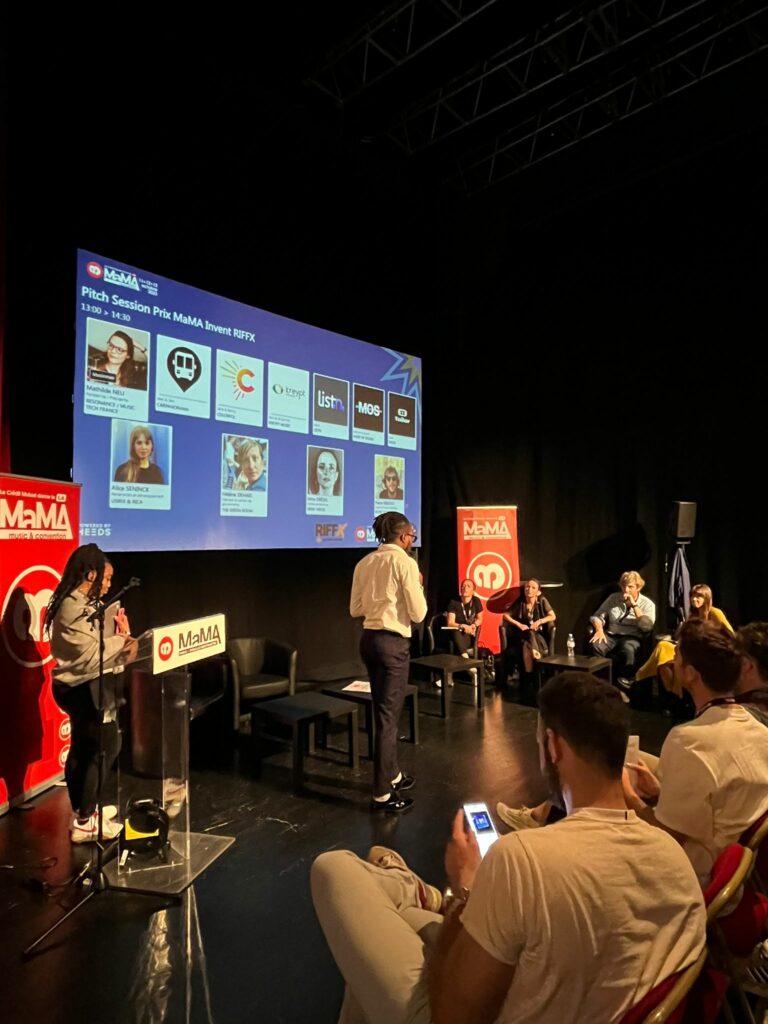 La Nouvelle Onde awards ceremony during MaMA
Winners will receive professional support for a year, including a pass to MaMA 2024, meetings with their mentor and networking opportunities in Paris and the rest of France. Winners will also benefit from personalized coaching with SheSaidSo and access to the network and its members.
Visit the La Nouvelle Onde website to discover in detail the portraits of the 11 winners of the #PrixLNO 2023.
The list of the #30demoinsde30 of the class of 2023 will be published mid-November on La Nouvelle Onde.
I choose everything" prize
LINA MAÂCH - PROJECT MANAGER - ANTIPODES MUSIC PRODUCTION / MANAGER - AYATH / EDITOR & EDITORIAL BOARD MEMBER - LE RAP EN FRANCE / STUDENT - PRC ACADÉMIE 
OSCAR KRUITHOF - PROJECT MANAGER: PHONOGRAPHIC PRODUCTION, PUBLISHING AND IMAGES - CNM / MANAGER - MAJEUR MINEUR & JEUNE OJI - MANAGER / GENERAL MANAGER - VIVETAMA PUBLISHING / TEACHER BACHELOR 3 & MASTERS "INDUSTRIE MUSICALE & PRODUCTION" & "PRODUCTION PHONOGRAPHIQUE" - EAC
J'innove" prize
GINA PÉRIER - FOUNDER AND MANAGER - LAPEE
By the way, LAPEE is the solution Prix MaMA Invent RIFFX 2022!
AXEL LEGROUT - SINGER - FOR THE HACKERS / GENERAL MANAGER - CARPANORAMA / BOOKER - ROAX TOUR / LABEL MANAGER - FUSION PRODUCTION

J'explore" prize
AGATHE LAVAREL - COMPOSER / ARRANGER / PRODUCER / DIRECTOR OF ALBUMS AND MUSIC FOR ANIMATED FILMS AND VIDEO GAMES
NICOLAS BUVAT - ARTIST - MUSICIAN / CO-FOUNDER & PRODUCTION MEMBER - LAB ALTÉRÉ
Je gère" award
ANOUCK ARRIGNON - ADMINISTRATION AND PRODUCTION MANAGER - LA MAROQUINERIE
BENJAMIN LANGLAIS - FREELANCE PROJECT MANAGER - LABELS & ARTISTS SERVICES | MUSIC MARKETING
Artist-Entrepreneur Award, in partnership with GAM
ELEONORE MALY - AUTHOR - LA MAISON ARNOTT / ARTISTIC DIRECTOR - LOW JAY / MANAGER - ENALOTFI
CLÉMENT BRARD - FOUNDER AND BOOKER MANAGER - COSMIC NOISE PUDDING / PROMOTION MANAGER - TIGRE NOIR / FREELANCE PROMOTION MANAGER - FLOWERCOAST / MUSICIAN - NOTHING WORKS
Special prize - People's choice
LAURIE MAMMOLITI - ARTIST, SONGWRITER, COMPOSER, PRODUCER AND PERFORMER - BLEU BERLINE / MUSIC PRODUCER, COMPOSER, ARRANGER AND PRODUCER FOR OTHER ARTISTS... / MULTI-INSTRUMENTALIST MUSICIAN (GUITARS, KEYBOARDS, BASS AND PERCUSSION) AND SINGER, ARTISTIC AND MUSICAL DIRECTOR, ACCOMPANIST FOR ARTISTS ON TOUR, IN STUDIO AND ON PROMO: PLASTISCINES, ADRIEN GALLO, YAËL NAIM, LESCOP, FLORENT MOTHE, BEAT ASSAILANT, ETC./ LABEL MANAGER AND PHONO PRODUCER - ROCK CORPORATION / CULTURAL MEDIATION WORKSHOP LEADER (MUSIC AND VIDEO CLIPS) IN SCHOOLS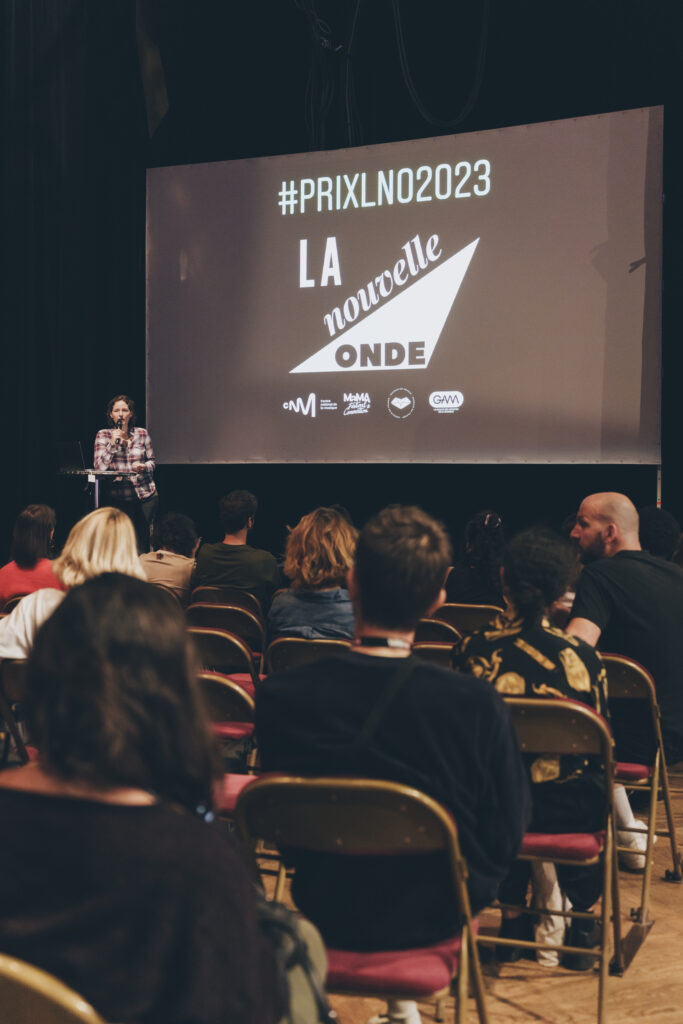 Masterclass with the Joséphine des artistes prizewinner & the 18/20 jury
On Wednesday October 11, the eleven young jurors were invited to a unique masterclass with the winner of the Joséphine des artistes prize, Tuerie, and his creative team. The meeting focused on the creative professions and exchanges with the audience, which included some one hundred Culture pass users from the Paris region. Co-hosted by Odile de Plas, head of Télérama's music department, and jurors from the Jury 18/20ans, this masterclass delved into the genesis of the album "Papillon Monarque", winner of the 2023 Prix Joséphine des artistes.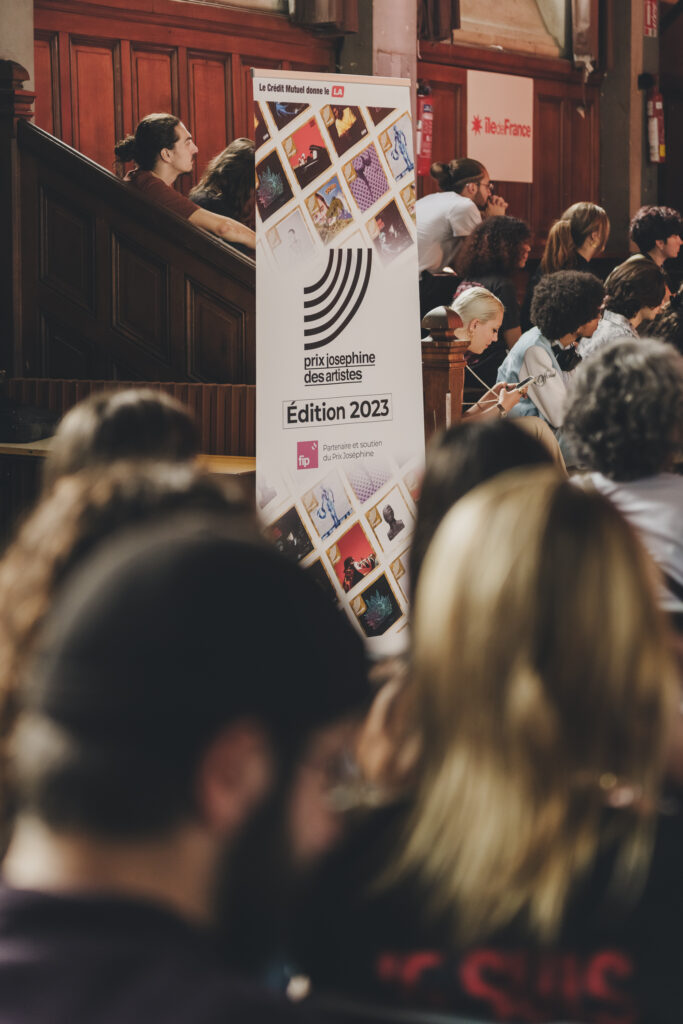 ---
3 forward-looking awards that MaMA is honored to have hosted or co-produced!